One of the advantages of working with BDX is that we have over 1300 builder clients of every type and size. If you have a smaller budget, you may be wondering if you can afford to work with BDX… but the truth is, with today's homebuying landscape, you can't afford not to.
Having BDX on your side means that our team is an extension of yours bringing ideas and expertise to the table. And we'll work with you to create a focused plan that fits your needs and delivers lasting value.
Listings
Getting your homes and business in front of active and qualified new home shoppers is critical. New Home Source is the #1 new home website and by listing your homes with us, you get access to our focused and highly qualified audience. And there are a lot of benefits that are included with your listing at no additional charge.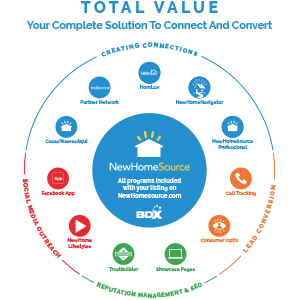 TrustBuilder – A program designed to deliver honest reviews from real homeowners about their home buying experience.
Consumer Optix – Receive more details about your leads with our new lead augmentation program – market segmentation, household demographics, and shopping behavior.
CasasNuevasAqui – The only new home marketplace that is specifically for Spanish speakers.
Facebook App – With the BDX Facebook application, you can display your listings on your company Facebook page.
AND MUCH MORE!
Websites
Your website should reflect your company's unique style and voice – while incorporating the latest best practices and technologies. Your website is the hub of all of your online marketing efforts and often times it is the shoppers first impression with your company. BDX has website packages and options for builders of every size and type and includes features such as image galleries, interactive features, dynamic maps with points of interest, and much more. . All of our sites include:
A look that is unique for your brand
Responsive design
Content Management System (CMS)
Customizable galleries and image sliders
Contact pages and forms
SEO infrastructure
Social media linking
Renderings
We know that today's buyers are highly visual and photos are a critical part of the decision making process. BDX is a leader in providing 3D renderings for builders. The most intricate details will be captured in your exterior and interior renderings and will correlate with a style that matches your brand. Interior renderings which display key spaces in homes like the living room, kitchen, and bathroom will amaze and engage homes shoppers. Still not sure… check out our Renderings Gallery our 3D renderings are so realistic that people often get them confused with being photographs. All renderings will be of high quality, for a good price and have a quick turnaround time.
Builders don't need a big marketing budget to take advantage of the latest marketing, content and technology solutions – in fact all of the solutions we've outlined deliver a significant return on your investment. Contact one of our Digital Marketing Experts today and they'll find the marketing strategy that fits for you.